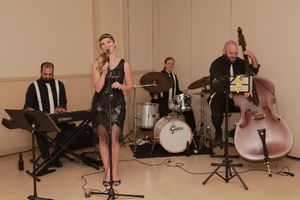 The New Standard
The New Standard is Windsor's premiere jazz quartet featuring Sara Fontaine on vocals, Ryan Fontaine on double bass and Mike Karloff on piano and Vanessa Harnish on percussion.

Originally formed as entertainment for Caesar's Windsor, the band has expanded its repertoire to include jazz renditions of popular radio hits in a "Post Modern Jukebox" style.  They are suitable for weddings, cocktails, corporate functions, music lounges, private parties and country clubs. 

The New Standard specializes in setting a perfect mood for your special event. They are sure to appeal to young and old alike.   Whether they are playing "Embraceable You" during your first dance or delighting your receiving line with "Blue Moon"  or pumping up the crowd with "Single Ladies" they are an upscale addition to any wedding celebration or party.  Suitable for cocktail or dinner music they are ready to wow your guests.  With very reasonable rates, The New Standard is a perfect fit for any size event.



About Mike Karloff:
An avid accompanist comfortable in all styles of music from classical, jazz and music theatre, Michael Karloff is one of Windsor's most "in demand" piano players. He currently works as adjunct professor in the Music Department at Wayne State University, as the director of Jazz Combos. He also works as an accompanist, music director, arranger, conductor and professor of Music Theory and Ear Training for the Music Theatre Performance program at St. Clair College. In addition, Michael is the instructor for Jazz Piano in the music department at the University of Windsor. In addition to 3 University/College appointments, Michael continues to gig as a freelance jazz pianist, classical accompanist and pit musician. He is a regular guest with the Windsor Symphony, has performed at both the Detroit Jazz Festival and Michigan Jazz Festival, in addition to working regularly at local restaurants, clubs and private events.

About Ryan Fontaine:
Bassist Ryan Fontaine discovered music at the early age of 5 while figuring out melodies on a small Casio keyboard. He began studying guitar at age 9 and gained an early understanding of scales and chords which he would later apply to jazz bass.
At age 14 he felt compelled to take up bass guitar, an instrument that he had always been drawn to. Encouraged by his high school music teacher Ryan began to play the double bass. He studied hard and decided to pursue the upright bass in University. Shifting styles and studying under the principal bassist with the Windsor Symphony gave Ryan a whole new classical perspective on music.
During the late '90's Ryan toured North America with the Juno award winning swing group The Johnny Favourite Swing Orchestra. Upon returning to Windsor he quickly became one of the most sought after bassists in the area, as both a live and session musician.
Returning to his first love, jazz bass, Ryan enjoys performing with fine fellow musicians in Soirée. He looks forward to new exciting musical adventures and sharing music with his wife Sara and daughter Ava.
About Vanessa Harnish:
Vanessa Harnish is a percussionist and educator with a passion for jazz and music theatre. She can be seen performing with the Coffee House Combo, Funk Junkies, Organization and the New Standard. Recent pit orchestra work with St. Clair College and Windsor Light Music Theatre include Mamma Mia, Beauty and the Beast, The Pajama Game and 42nd Street. Vanessa is grateful for our strong arts community and continuing opportunities to work with so many talented artists.

 
Sample Playlist:
JAZZ STANDARDS:
Fly Me To The Moon
They Can't Take That Away From Me
Moondance
Autumn Leaves
Cry Me A River
TOP 40 JAZZ
Beyonce
Sam Smith
Gloria Gaynor
Maroon 5